How Is Covid-19 Impacting The Fintech jobs market in Sydney and Melbourne right now?
As someone who has been in the recruitment industry since the last millenium, I can tell you we are in unprecedented times when it comes to the job market. Mass unemployment overnight, businesses shut down, workforces banned from their office, I feel like I am living in a Hollywood disaster movie! It calls for a different Fintech Jobs Report this month.
If we take a macro view, then we should rightfully get scared for our jobs. But if we take a micro view, is there reason to be more optimistic?
Let's look at some of the job advert data first. Tier One People track and analyse Fintech job adverts across Seek, Indeed, LinkedIn and Glassdoor.
Fintech Jobs In Australia.
Most Fintech have put on hiring freezes, some have sadly started to make job cuts.
This is only a guess, but I'm pretty sure that most of the 417 jobs live at the beginning of March remain unfilled. Most of the jobs advertised now are from recruiters and from what I am hearing, it's desperate times for the recruitment industry. I question how many of the adverts are genuine opportunities.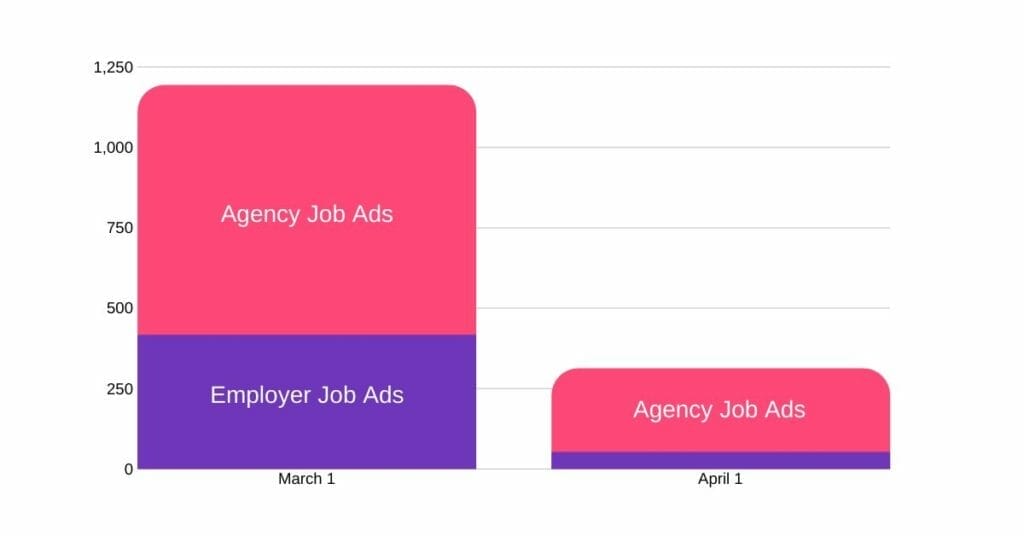 So, with the market so quiet what can you do to navigate this period? If you are in work, I suggest you become indispensable to your employer. That means increasing productivity and demonstrating where you are CREATING value for the business.
If you do find yourself out of work this is the time to start rethinking your approach to the job search. You should take a read of this article and watch the video.
Getting ready for the rebound.
There will be a rebound in the job market, there always is but when it will happen is anyone's guess. So we need to focus on the microview to get a sense as to what job opportunities may come about in Australian Fintech.
It's also worth mentioning that anyone who has been successful in a startup is WAY ahead of the curve when it comes to the next phase of growth and hiring. We are already hearing of many stories where employees are struggling to perform working remotely. The highly structured environment of a corporate does not lend itself well to the new world of work we are now thrust into.
If companies do want to hire purely for skills, then with remote working there is a global talent pool to choose from. Why chose you when there are much cheaper options available?
Put simply, your ability to get shit done and demonstrate where you create value for businesses/customers will be your differentiator.
Sydney Fintech Jobs.
With a bigger slice of the business banking pie, expect to see increased activity across this space. Government stimulus packages are mainly geared to SME's. The big 4 banks will be left to administer the lending, but with enquiries in a single day equalling the total annual enquiries, how will the big 4 cope?
We are already hearing of major problems in the UK where less than 900 loans have been approved since the stimulus package was rushed through parliament 3 weeks ago.
The reality is the banks will have to hire people as they don't have the systems to cope. And they will also have to partner with Fintech to leverage their technology.
Could we see an early adoption of open banking using API's to connect small businesses directly with lenders? Can Xero, Intuit, MYOB etc provide the access to general ledgers to enable instant decisioning?
Do Sydney Fintech Startups Face The Biggest Risk To Jobs?
The big danger for the Sydney Fintech scene is the huge number of Fintech startups who are under capitalised and not generating significant (if any) revenue. I fear we could see many startups fail during the next 6 months which could have a huge impact on local jobs. I say could, many of these businesses employ 1-10 staff and many roles are part-time, offshore or outsourced.
This opinion piece by Robin Klein, a board advisor at Transferwise gives a fair view point on where government need to focus, it's business triage right now.
On the flip side, those Fintech companies well capitalised and generating revenue could be well positioned as we rebound.
While I expect Australia to face a very long recovery, the companies that do well out of every downturn are the innovators. The Fintech industry has every reason to be optimistic. Especially if we embark on a new world order where monetary systems change, digital currencies become a reality and the world moves to embrace fairer systems of wealth distribution. That may be a decade away, but we all know the shift is inevitable. Is now the time for a true digital revolution?
If you have 30 minutes, watch this video with Ray Dalio - Validation for my optimism from one of the world's most successful investors!
Melbourne Fintech Jobs.
With Melbourne being the home Revolut, Up, AirWallex, Transferwise, Square, Stripe (all well capitalised businesses) I am hopeful that the Fintech scene there will kick on.
There isn't quite the concentration of early stage startups as Sydney which means there should be fewer redundancies and hopefully we can keep talent in the industry. Revolut, Airwallex and Square are still advertising open positions.
Where are we seeing big job losses so far?
Product Management - We've observed for some time that the challenge of Product/Market fit is a people challenge not a product challenge. The Australian market has never quite got to grips with the role and purpose of a product manager. And unfortunately, right now product management seems to be considered a role in which the responsibilities can be shared amongst tech, marketing and customer success.
Talent and HR - Need I explain?
Sales and Marketing - Any big salary earners not generating revenue are at risk. On the flip side we are seeing demand for revenue generating sales professionals and growth marketing.
Strategy and Innovation - Right now these are considered luxury positions. They may make a glorious comeback as the market comes back, at least historically. But any business hiring innovation people after this downturn is probably close to extinction. I would personally love to see innovation move away from being a department and become a core value engrained in every person in the business - dream on!
Tech and Engineering - It is highly unlikely we will see many if any redundancies of top tech talent. Where we will likely see redundancies are those who are currently overpaid and managed to secure high salaries because of supply/demand market forces vs talent. It's great being in tech when the market is booming, but the very transactional nature of the tech industry means it can be very tough when the market is down. I'm sure we will see the Big 4 banks and mid-tier banks get excited by the prospect of snapping up people from Fintech when tech redundancies happen.